1.
Aurumania's Gold Bike Crystal edition
Sepeda ini bisa dibilang termahal. Hampir semua bagian dilapisi emas 24 karat hingga sampai ke spokes. Handlebar grip dan sadle dilapisi kulit berkualitas tinggi juga dihiasi 600 butir kristal Swarovski. Sepeda ini di banderol US $ 144.464.
2.
Madone 5,9 SL – Dilapisi emas dan berlian.
Dihiasi 7 berlian (hand made) dan 300 berlian putih. Dijual untuk disumbangkan ke Yayasan Lance Armstrong Foundation Gala. Sepeda ini dibangun atas kerja sama dengan Trek Bikes, Nike, Alan Friedman Jeweler dan artis Lenny Futura. Sepeda ini terjual dengan harga $75,000 USD.
3.
Litespeed Blade – Kit Bike
Sepeda ini tidak dilapisi emas atau berlian namun biaya untuk riset, pengembangan dan produksi sepeda ini mencapai £25,317. Pembuatnya mengklaim bahwa sepeda ini bisa melaju sangat cepat dan bagi pengendaranya akan merasakan sepeda futuristik daripada sepeda konvensional biasa.
4.
Celebrity Gold Bike – Needs security guard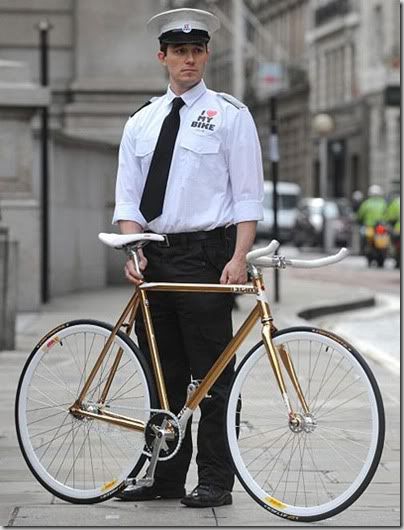 Sepeda dikhususkan untuk para selebritis dunia khususnya di Inggris raya. Sepeda ini dilapisi emas 24 karat dan dibuat custom oleh seniman (hand made). Sepeda tersebut dihargai £4,000 dan uniknya sudah termasuk penjaganya yang senantiasa menjaga ketika sepeda diparkir.
5.
Channel Bike – Limited edition
Sepeda ini hanya diproduksi 50 buah. Mempunyai julukan "Ultimate two-wheeled novelty". Beberapa bagian dilapisi kulit berkualitas tinggi yang dibuat oleh seorang pengrajin kulit legendaris Brooks Brothers. Karena langka dan antik sepeda ini memiliki harga $28,000 USD.
6.
Diamond encrusted Enigma Elle Bicycle
Enigma 'Elle' frame 50cm with mirror polished logos
2 x Collection quality diamonds (D flawless) in the top tube
3 x 18ct gold badges by Nicholas James
18ct gold plated Campagnolo Centaur carbon Group Set
700c hand built wheels: Ambrosio hubs, Mavic Open Pro Rims
& 32 x 18ct gold plated spokes per wheel
Continental GP 4000 gold tyres
Carbon fibre seat post
'Elle' ladies handle bars by ITH
San Marco Ladies Saddle
Easton Carbon Fibre forks
Sayangnya harga masih dirahasiakan.
7.
Koga Kimera
Koga mengklaim mengembangkan sepeda ini menelan biaya hingga mencapai $1,000,000 USD. Semua itu demi memenangi kejuaraan sepeda Velodrome di Olimpiade Theo Bos Belanda. Menurut laporan, sepeda ini memiliki hambatan angin terendah di dunia (aerodimanika) yang memungkinkan pembalap bisa menungganginya lebih cepat. Tetapi sepeda ini memiliki frame yang sangat kaku daripada sepeda velodrome yang lain membuat agak sulit dikendarai.
8.
BERU F1 System Factor 001 Bicycle
Sepeda ini didesain meniru teknologi mobil Formula-1 (F1). Dilengkapi komputer, radio transmitter dan GPS. Sepeda dengan harga GPB 20,000 (british poundsterling) ini diklaim sebagai sepeda masa depan.
9.
Electric Assist Bicycle by eROCKIT
Ditanamkan baterai nano-phospate lithium dengan masa pakai hingga 10 tahun atau berjalan sejauh 50.000 km. Satu baterai yang terisi bisa menggerakkan sepeda ini sejauh 60-80 km, apabila habis maka pengendara harus menggunakan pedalnya untuk mengisi sekaligus berjalan. Harganya $44,000 USD.
10.
KGS 'Tier3' Bikes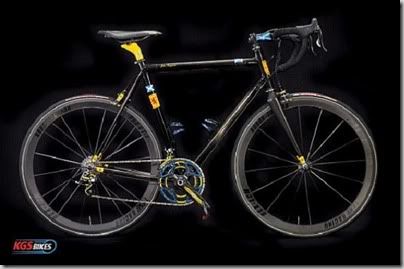 Sepeda custom ini diciptakan oleh Kevin Saunders. Maksud dari Tier 3 adalah harganya $30,000 USD seharga mobil yang nyaman. Kata pembuatnya yang membuat mahal dari sepeda ini adalah dibuat secara eksklusif, eksotis, unik, tanda KGS, presisi tinggi dan penyelesaian yang rapi. Satu lagi, parts sepeda ini dijamin sulit ditemukan di seluruh dunia. Nah, jangan sampai rusak alias nggak usah dipakai.
sumber